Enjoy the tranquillity of nature and discover the fascinating features of an impressive landscape ...
Thatched cottages, working watermills, green fields and mellow valleys. Even Napoleon and his men chose the picturesque headwaters of the river Schwalm for rest on their conquest through Europe. Discover the diverse landscape of the German-Dutch
Natural Park Maas-Schwalm-Nette
unique nature preserves and the tranquil charm of its small historical locations like
Wegberg
and Schwaam.
Whether you wish to hike, cycle or go hacking by horse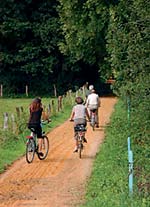 during your excursions through the
silent nature you can leave your hectic every day life behind. In close vicinity you will find stabling for your own horse as well as
a tempting offer of going hacking by well trained horses.
Do you prefer to relax ...
You can enjoy the picturesque surroundings in a
horse drawn wagon or cart
just like the good old days.
... or be active?
There are 2 sophisticated 18-hole golf courses in the near vicinity, called the
Golf club Wildenrath
and
Golf club Schmitzhof
. Surrounded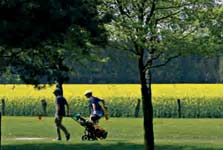 by enchanting countryside you will find unlimited golfing pleasure throughout the whole year.
Do you wish for more information? We will be only too happy to send you comprehensive brochures. Call us or use our
Enquiry
page!